Designing and producing ultrasonic blades (ultrasonic knives) for the use with phase angle controlled generators without frequency variation involve geometrical restrictions related with high costs because:
the height of the knife has to be tuned to the resonance frequency
the sonotrode can only be built up to around 450 mm length, without losing amplitude uniformity
the sonotrode width at the top face has to be about 20 mm, to deliver a large enough contact area to the converter and to generate the amplitude amplification needed
The disadvantage: the material ist being pressed apart by the wedged shape of the sonotrode
The Artech frequency variation method does not demand those geometrical requirements. Instead of longitudinal waves, the Artech method excites plate waves, which are but little dependent on the knife geometry. This allows for the design of low cost ultrasonic blades (ultrasonic knives) with high oscillation amplitudes without the above mentioned restrictions.
Artech's ultrasonic blades (ultrasonic knives) can be adjusted to particular applications, resulting in a simplified design for the manufacturers of cutting machines.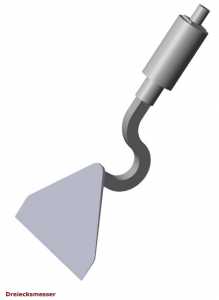 Where appropriate, complete motion axes or the number of ultrasonic blades (ultrasonic knives) can be reduced. Mechanical cutting saws can be replaced by ultrasonic units, without changing the mechanical design of the cutting machines.
Possible fields of application for this technology:
cheese
cake
bread and sandwiches